Joining the orchestra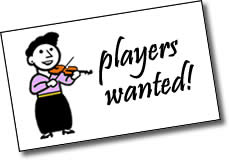 The orchestra is keen to recruit new members, and welcomes enquiries from string players of a standard approximately equivalent to around grade VI or above. There are no auditions.
Rehearsals are on Friday evenings in the centre of Newcastle-under-Lyme, normally from September until May. The orchestra has its own extensive library of music; the concerts page gives an indication of the repertoire.
If you are interested in playing with us, and can attend Friday evening rehearsals, please contact the chairman, Christopher Mason: phone 07719 487670 or email chairman@newcastlestrings.org.uk .